India (Golden Triangle) (Part 3)
Jaipur
| | | |
| --- | --- | --- |
| | Part 1 <===> Part 2 <===> Part 3 | ------------ |
| | |
| --- | --- |
| Part 1 | Delhi, India Gate, Qutab Minar, Raj Ghat, Lai Qila (Red Fort), Jama Masjid, Humayun's Tomb |
| Part 2 | Agra, Taj Mahal, Yamuna River, Agra Fort, Fatehpur Sikri |
| Part 3 | Jaipur, Amber Fort (Amer Fort, or Amber Palace), Elephant Riding, Hawa Mahal (the Palace of Winds), City Palace, Jantar Mantar |
Amber Fort (Amer Fort, or Amber Palace)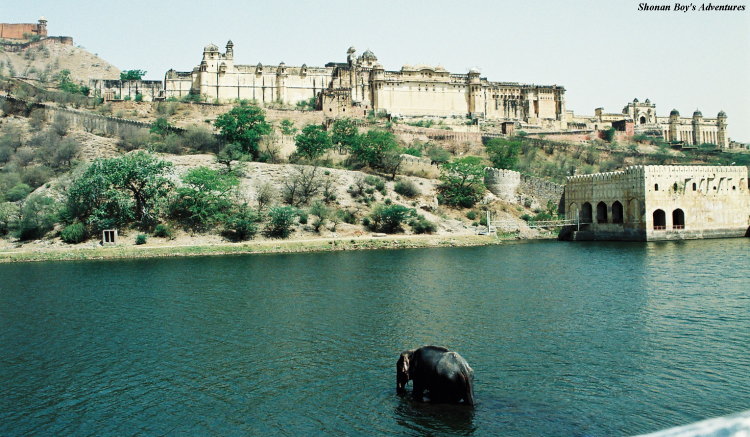 There was a bathing Indian elephant on the lake. The Amber Fort was begun to constructed from 16th century. Also there is the "Jaigarh Fort" above the Amber Fort. It seems that it is hard to go to Jaigarh Fort, and I did not do there...
There was a suspecious souvenir shop that prices were incredible. A clerk said outside that one shirt cost only 50 "Rupees". I ignored him. If visitors try to buy it, He threat visitors with dangerous weapon, and sell at 50 "US dollars". At that time it equaled to "50 Rupees = 200 Japanese yen" and "50 US dollars = 5000 Japanese yen". Please be careful of the person who try to ask for too much of prohibitive prices!
Elephant Riding (Taxi?)
A elephant handler also allowed me to ride an elephant on his head, when I paid a tip of 50 Rupees, (about 200 Japanese yen as of May 1997), apart from fare. I heard an elephant hander's salary was cheap (about 20000 Japanese yen in terms of Japanese price).
Inside of Amber Fort
There were previous queens' private room on the right side of level 3. Once, the then polygamous king has 40 wives. At night one wife had a bath before meeting king. And a king spent with one wife per day. So he had many children.
Jai Mandir (hall of victory)
The walls and the ceiling of the Mahal are covered with a beautiful array of Mirrors which reflects any streak of light, so as to illuminate the Entire Room.
In front of the Jai Mandir is the "Sukh Niwas" (Hall of Pleasure) with a door made of sandalwood, inlaid with ivory with a channel running through, which formerly carried cool water acting as an air cooler.
a View from Jai Mandir
| | |
| --- | --- |
| Hawa Mahal (the Palace of Winds) | City Palace |
| Women of palace looked down their town from Hawa Mahal. However this building is not deep, it seems that it is cooler during breeze. As there are many building of this colour, Jaipur is called "Pink City". | There are many jewelry, clothes, swords, and so on. Even if you pay a photo admission fee, you cannot take photos in the art gallery. (monetary punishment!) |
| | |
Jantar Mantar (astronomical observatory)
Left: An object of triangle is a sundial. This astromical observatory was bulit by Jai Singh 2. In India, Indian standard time is based on Delhi. And it is 30 minutes difference regarding sundial between Jaipur and Delhi.

Lower Left: a sundial. I climed right building on this photo. It was steep stairs. My tour guide said he felt dizzy when he looked down below.

Lower Right: It means constellation.
a dance of northern part of India
| | | |
| --- | --- | --- |
| | Part 1 <===> Part 2 <===> Part 3 | ------------ |
Travel: 25/May - 01/JUN/1997, Edited on 6/OCT/2006

---
Top Page | English Top Page | Links (for Travel, etc) | Site Map | Terms of Use | Browser Compatibility

Copyright (c) 2002 - 2010 Shonan Boy's Adventures. All right Reserved.